"Not feeling this one"- Some fans react as Tottenham unveil new away kit as part of Dare To Do Series
Tottenham Hotspur unveil new Nike away kit for 2022/23 season with launch video involving Son Heung-min
Tottenham Hotspur have unveiled their new away kit for the 2022/23 season. The video launch featured the likes of Son Heung-min, Pierre-Emile Hojbjerg and Ben Davies.
The club's official website (h/t football.london), describes the kit's colour as a "deep lapis blue shade". The club's cockerel symbol is in the centre along with the Nike logo and the sponsors.
The new away shirt is another instalment of the Dare To Do Series. In the video unveiling of the shirt, a tribute to Jimmy Greaves can also be seen.
The home kit was unveiled about a month back and the reception was mostly positive from the fans. The white shirt with yellow trimmings reminded people of the old shirts that were popular previously.
The reception to the new away kit has been mixed though, with fans either loving or hating it. Some fans don't like the bold choice of colours while others are happy to see a different type of shirt.
The responses have ranged from "awful" to "decent" as Spurs fans debate on what the new kit is like. But most responses term the shirt "the worst". It remains to be seen whether it grows on people as the season goes by.
What might help redeem the kit is if Tottenham manage to have a successful season wearing it. Last season's away record in the Premier League was bad as we drew four games and lost six on the road. Hopefully, the new kit changes our fortunes.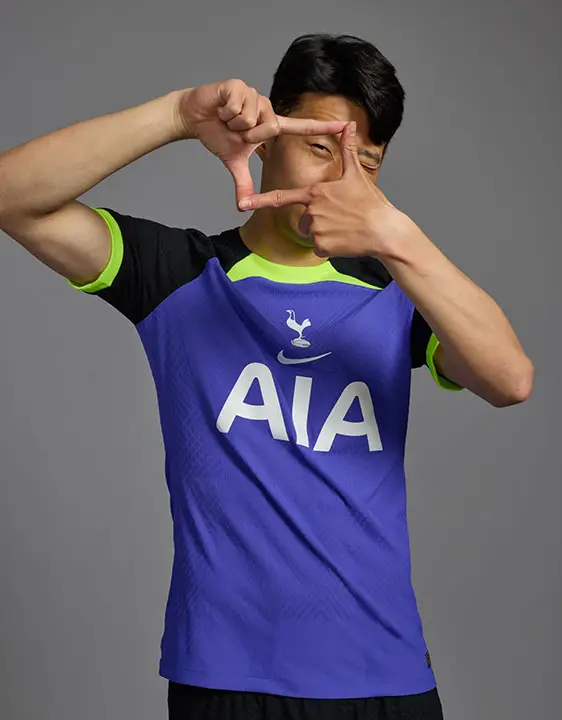 With the new additions to the squad this summer, the North London side look the real deal under Antonio Conte. There is hope amongst the fanbase that this might be the season we break our 14-year trophy drought.
The crowd will be rearing to go next season. The dream will be to lift a trophy in front of a crowd near the N17 and there is no doubting that the kits that we wear during the campaign that leads to our next trophy, will go down in the club's history.
For now, we can only have the reactions to the new shirts- one that we hopefully don during some big results away from home next season.
The reaction of fans to the new Tottenham Hotspur away kit
Nike done us dirty 😭😭

— Ethan⚜️ (@thfcem28) July 14, 2022
That. Is. Awful. One of the ugliest kits we've ever had. Usually I'll buy an away shirt but not this year. The home one is decent though

— Anthony Hollick (@AntHollick7) July 14, 2022
Worst set of kits by far this season all 3 are rank

— Ben Curtis (@benjocurtis) July 14, 2022
We're winning the league in this monstrosity and I'm gonna have to look at it for the next 60 years

— Ali Campbell (@AliCampbell90) July 14, 2022
I'm not feeling this one bit. Same as every other kit when newly released. Hopefully it'll grow on me but I know for a fact I'll get it for collection purposes

— stevie 🇲🇾 (@donsteviee) July 14, 2022
More Tottenham Hotspur News
Looks better on tbf – feel it's gonna grow on me throughout the season

— THFC99 (@THFC99_) July 14, 2022
Defo think this is a grower and one that looks better in person like last seasons third (I hope 🤞)

— george b. (@g_brooks_) July 14, 2022
@ten91_jersey it looks more of a training kit than an actual kit. I still like it very much though

— Fred.Rick 🇬🇭 (@Fred_The_Rick) July 14, 2022
Spurs release the same Home Kit every year yet people cry Its too boring its always thé same, now they Release an away kit in new Design and Its called wtf What is this. I very much like thé look of that kit Its something different

— Dombele (@Ndombolo20) July 14, 2022
It's actually decent, I don't get the hate

— Mason 🇮🇹 (@FtblMason) July 14, 2022