Tottenham's derby hero says this refereeing decision after full-time whistle was "unnecessary"
Pierre-Emile Hojbjerg: Antonio Conte and Thomas Tuchel's red cards were 'unnecessary' in London derby
Pierre-Emile Hojbjerg has become one of Tottenham Hotspur's most reliable players since joining from Southampton. The Denmark international was solid once again as Spurs drew 2-2 against Chelsea at Stamford Bridge on Sunday.
The 27-year-old defensive midfielder cancelled out Kalidou Koulibaly's first-half header with a rasping strike from distance in the 68th minute. Richarlison, who was on the pitch for just 11 minutes at that point, was seemingly in Edouard Mendy's line of sight when the shot was hit.
At that moment, he was in an offside position. There was also debate about Rodrigo Bentancur's tackle on Kai Havertz in the build-up to that goal, but it wasn't chalked off.
This would have infuriated Thomas Tuchel on the touchline. To add to that, Marc Cucurella seemed to have his hair pulled before Harry Kane's 96th-minute equaliser, which would have raised tensions between the two camps.
Hojbjerg has his say
After the full-time whistle, Tuchel held Conte's arm for far too long and incited the Italian manager to react in a rather brash manner. No blows were exchanged as people were quick to pull them apart, but the referee did brandish a red card to the pair.
For Hojbjerg, who was solid for us in the game, this moment was rather 'unnecessary'. The red card puts the duo at risk of a touchline ban from their next league games. The former Bayern Munich midfielder said after the game (h/t Football.London):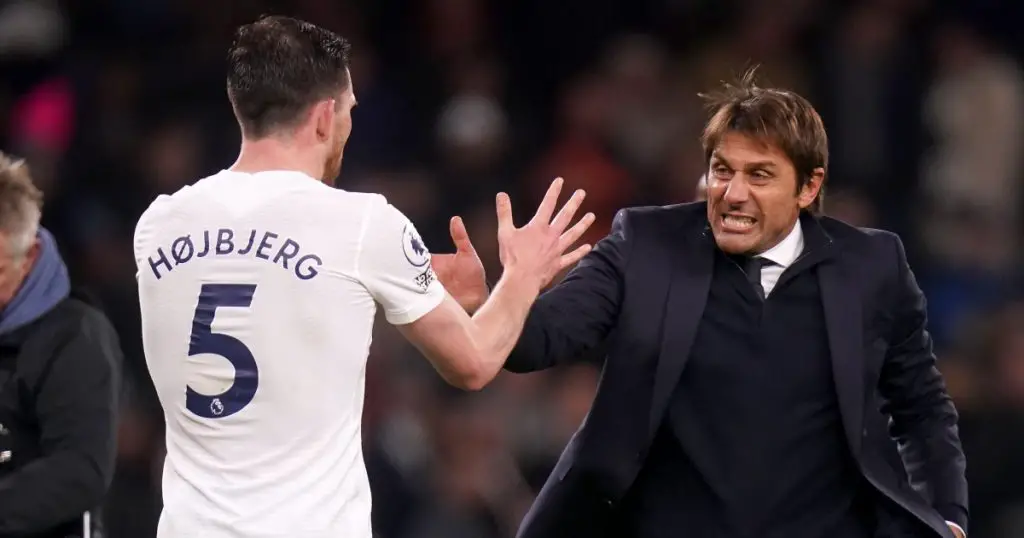 "I think it was a bit…it's difficult to comment on decisions but I didn't think it was necessary for the officials to be giving red cards after the game, but I didn't see what happened so I cannot comment on this issue."
Spurs' next task is to face Wolverhampton Wanderers on August 20 at N17. It remains to be seen if Conte will be present on the touchline in that game.
More Tottenham Hotspur News
Hojbjerg's comments make it evident that the team appreciates Conte's fiery presence on the touchline. It is, perhaps, what drove them to keep fighting and get an equaliser so late in the game via Kane's header.