"Tottenham's Cristian Romero"- Mike Dean owns up to refereeing error in Chelsea vs Spurs draw
Mike Dean admits to making wrong refereeing call during the Chelsea vs Tottenham game
Writing in his Mail Plus (Subscription Required) column as quoted by Sky Sports, popular Premier League referee Mike Dean admits to making the wrong refereeing call during the Chelsea vs Spurs PL clash last weekend.
In an enthralling clash that was not shy of controversy, Chelsea and Spurs played out an ill-tempered 2-2 draw that saw a last-minute goal from Harry Kane secure a point for the Lilywhites.
In a match where the tempers on the touchline flared to an extent that eventually resulted in both managers being red carded, one incident that caught everyone's eye was Christian Romero's foul on Marc Cucurella in the leadup to Spurs' second goal.
To the viewer, it seemed like a blatant foul by the Argentinian on the Spanish left-back with Romero seemingly pulling Cucurella's hair to impede his moment in the corner prior to the goal.
Whilst there was a VAR check on the incident as confirmed by Mike Dean himself, the man who was in charge of the operations on that night, the referee decided that it was not a foul and allowed play to continue.
It was from the ensuing corner that Spurs managed to net their second goal. In the aftermath of this, both Anthony Taylor and Mike Dean received a lot of criticism for their failure to spot the foul.
Writing in his column, Dean was honest to admit that it was his mistake and in retrospect, he would have asked Taylor to take a look at the incident. It was a mistake that favoured us and impacted the Blues in a negative way so perhaps, it is easier for our fans to come to terms with it.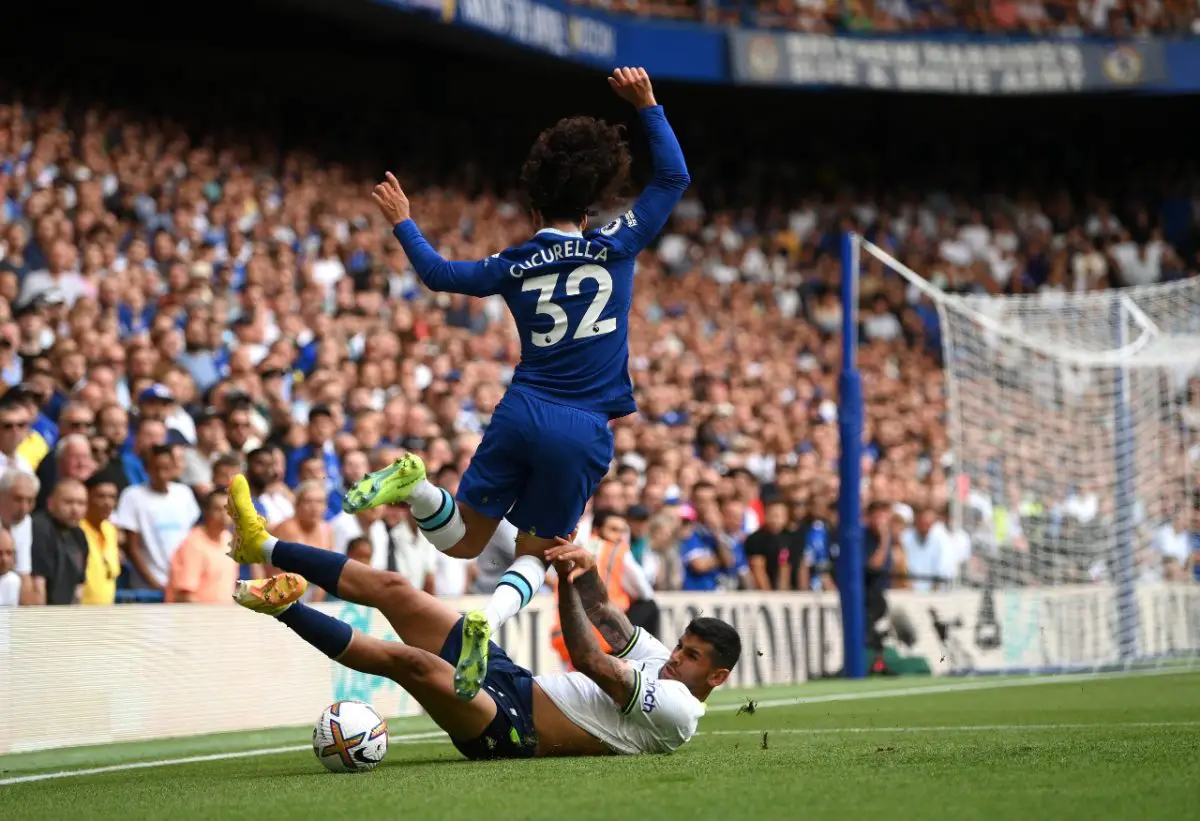 "Sometimes in hindsight, you realise you could have acted differently. For the second goal by Harry Kane, I asked referee Anthony Taylor to wait while I looked at the incident involving Tottenham's Cristian Romero and Chelsea's Marc Cucurella."
"In the few seconds I had to study Romero pulling Cucurella's hair, I didn't deem it a violent act. I've since studied the footage, spoken to other referees and, upon reflection, I should have asked Taylor to visit his pitch-side monitor to take a look for himself."
This should hopefully put an end to this controversy once and for all. There is no doubt that the incident is a foul and Spurs can consider themselves very lucky to have come out of that game with a point as Chelsea were by far the better team that night.
It is not always that we see referees writing in columns and talking about calls that they make during a game and Mike Dean doing this could be a way of letting players know that such conduct will not be acceptable in future games.
Everybody makes mistakes and referees are humans after all. However, not all of them come out and own up to them and Dean deserves praise for his courage to reveal that he made the wrong call.
More Tottenham Hotspur News
Let's hope that when a referee of such experience comes out to own up to his mistake, this sets a precedent for other officials to also do the same as well. Whilst there is no way we can go back and change this incident, we can at least move on with proper closure now.