Alasdair Gold reveals Tottenham fought off offers for starlet duo this year
Alasdair Gold reveals Tottenham fought off offers to retain Mikey Moore and Callum Olusesi
This summer, Tottenham Hotspur achieved just that, fending off jaw-dropping offers for two of their brightest academy prospects, Mikey Moore and Callum Olusesi. Mikey Moore, a name reverberating through the corridors of the N17, has emerged as a beacon of hope for the Spurs faithful.
In a world where transfer sagas and bidding wars often dominate headlines, there's something undeniably heartening about a club successfully holding onto its most promising young talents.
Aged just 16, this electric winger's rise through the youth ranks has been nothing short of extraordinary. Last season, he left defenders befuddled, netting three goals and providing four assists in just 10 appearances for the Under-18s.
This was another moment in the game where Lacey recognised the space on the outside & shifted onto his right with no hesitation – execution wasn't there but everything leading up to that point was top.

Brilliant run & pass from Mikey Moore too.pic.twitter.com/1WQvYLw119

— The Next Wave (@_TheNextWave_) September 14, 2023
But Moore's story doesn't end there. He dipped his toes into the fierce waters of Premier League 2, giving fans a tantalizing glimpse of his potential. Additionally, he featured prominently in Tottenham's UEFA Youth League campaign in 2022-23, underlining his status as one of the hottest prospects in English football.
The significance of Moore's talent was not lost on European giants, who came knocking with offers that would make even the most frugal club owner quiver. Yet, Tottenham, led by Daniel Levy and the astute Spurs board, held firm.
Similarly, Callum Olusesi, another 16-year-old prodigy, committed his future to the Lilywhites this summer. In a move that showcased Tottenham's unwavering belief in nurturing youth talent, they thwarted interest from the likes of Manchester United, Newcastle United, Leeds United, and Brighton.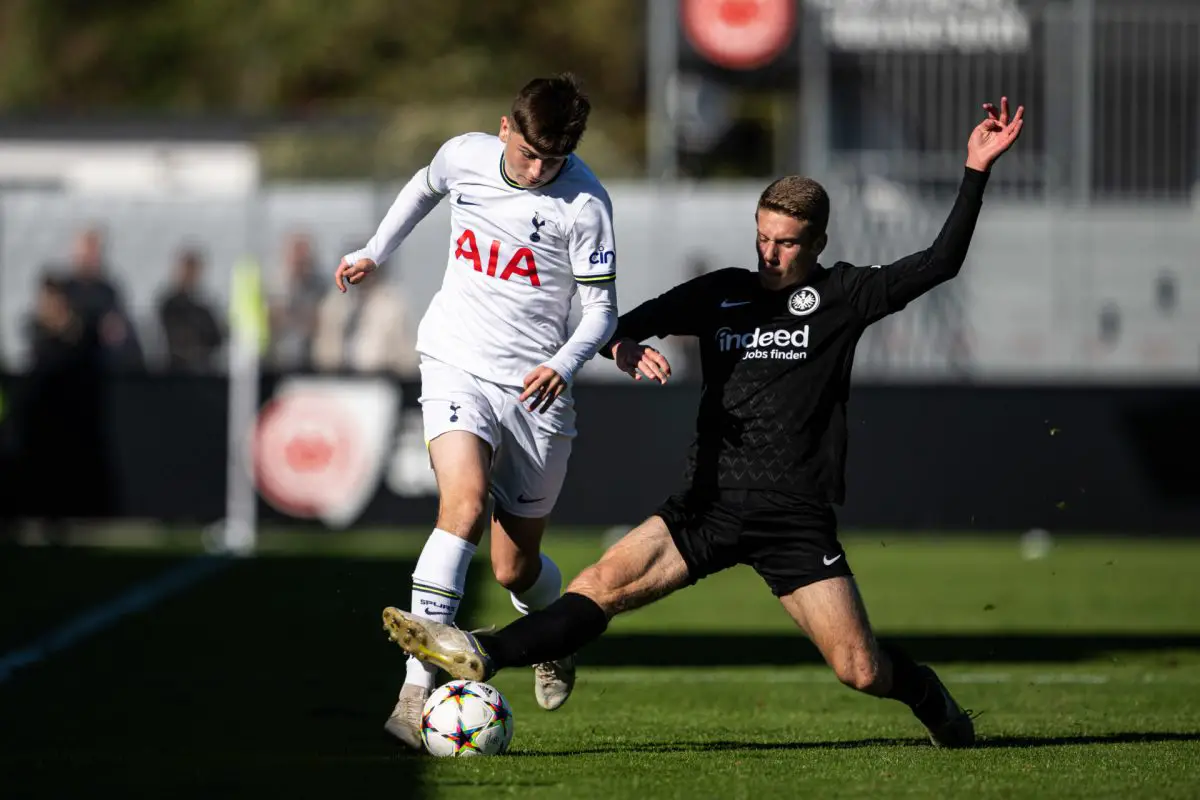 These young stars, Moore and Olusesi, have decided to stay in North London despite the allure of riches elsewhere. Alasdair Gold, a trusted voice for Tottenham fans, recently shed light on the gravity of the situation. Speaking on his YouTube channel, Gold revealed,
"Mikey Moore and Callum Olusesi, at 16 years old, have committed their future to Spurs. I was told there were eye-watering offers coming in for them. Eye-watering offers coming in for players that were 15/16 years old, but they've decided to stay at Spurs."
It's a testament to the allure of Tottenham's development system and the belief these youngsters have in the club's vision. In an era where immediate gratification often takes precedence, their choice to invest in the long-term project at Spurs is both commendable and heartening for fans who yearn for homegrown heroes.
More Tottenham Hotspur News
One cannot help but wonder if the recent appointment of manager Ange Postecoglou played a pivotal role in Moore and Olusesi's decision. The Australian gaffer, known for his penchant for nurturing young talents, brings with him a rich history of providing opportunities to budding stars and this might convince the academy kids.