Tottenham in a three-way transfer tug of war for 25-year-old South American star
Tottenham Hotspur in a transfer tussle with Real Madrid to sign Everton star Richarlison
According to Daily Mail Online, Tottenham Hotspur are currently engaged in a transfer tussle with Real Madrid for the signature of Everton star Richarlison ahead of this summer. He has played a major role in helping his side stay in the Premier League following their late push under Frank Lampard.
Richarlison is contracted at Goodison Park until the summer of 2024, but that has not stopped him from being surrounded by uncertain waters. The Toffees are under no immediate pressure to decide on his future prospects, but they could choose to sell him to offset their financial deficiencies.
Lampard's side could part ways with the Brazilian despite the forward being a major presence in their system. Tottenham and Real have shown an interest as they are monitoring his current situation to see if he is made available in the transfer market. The Merseysiders are preparing for a potential exit so a transfer could be facilitated in the future.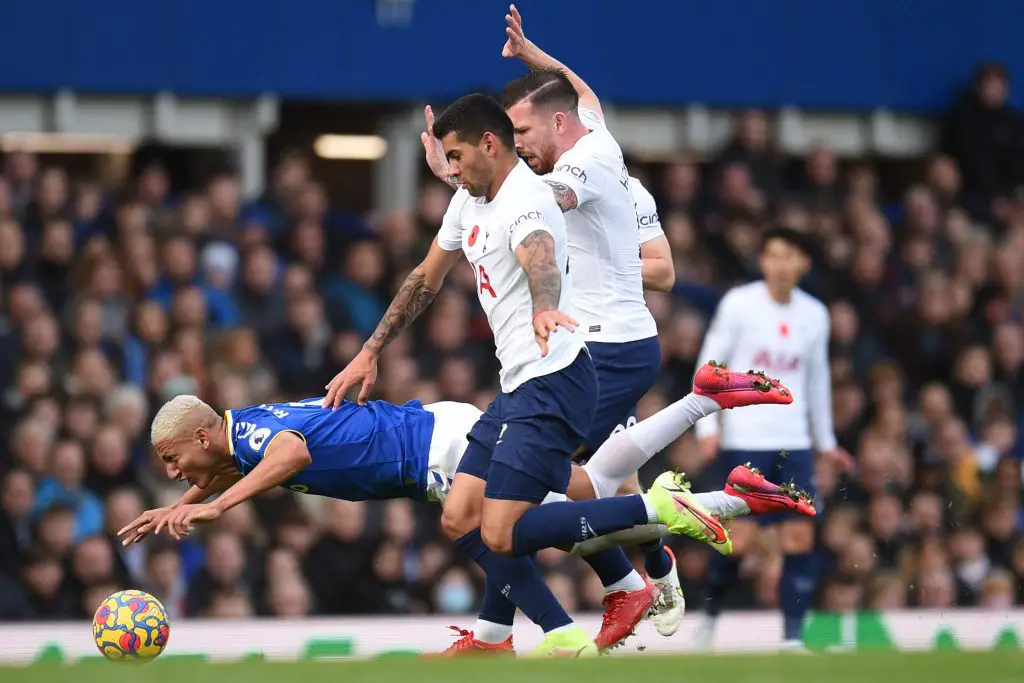 Richarlison- suitable for Spurs?
Spurs could use a centre-forward like Richarlison in their ranks, considering how Harry Kane does not have any backup options in the squad right now. That is not ideal, especially in a long season when Kane would need to be rested to keep him fresh for the important games.
Richarlison would undoubtedly be a solid option in such a case as he has done quite well for the Liverpool based club and Brazil national team. What's more, he is also capable of playing as an inside forward on both wings giving Antonio Conte more options to choose from for the next term.
That's not all, as Conte could also have the option to use a two-man partnership using Kane and Richarlison to try and replicate what he did with Romelu Lukaku and Lautaro Martinez at Inter Milan. Hence, we are given many reasons to target the Toffees ace but whether a move will happen or not, though, remains to be seen.
It is good to know that Richarlison could be entertained by the idea of moving to a bigger club where he would have a better shot at winning silverware. We are building a new project under N17, and he could play an important role for Conte in our attempt to end the long-standing trophy drought.
More Tottenham Hotspur News
Everton's stance on the Premier League attacker's potential sale could also be influenced by their need to raise funds to back Lampard this summer. Let's wait and see if that, coupled with their financial troubles, would force them to part ways with Richarlison or not after this campaign.
However, we need to keep an eye out for the Madrid based club as they would pose a considerable threat due to their stature. But they are not alone in this race, though, as Paris Saint-Germain are keen to sign the South American striker posing more issues for the North London side.